STUDENT SELF ENROLMENT
Student Self Enrolment allows students to confirm their enrolment details through e:Vision.  When the student logs onto e:Vision, if there are any enrolment details to be confirmed the enrolment screen will look like that shown below.
If the details are correct the student must simply click on the Confirm Details button.  If there is a query the student must click on the Query button which will allow the student to send a message to the administrator.  In the example shown below the student has replied to the administrator as the enrolment details are incorrect.  Clicking on the Yes button submits the query to the administrator.  The student will be contacted in due course when any error has been recitified.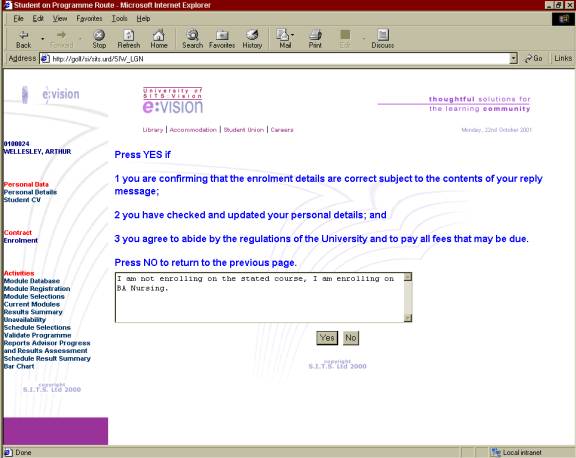 When a student confirms their details a screen such as that shown below will be displayed.  The student must simply click on the Yes button.  Doing so however may trigger the generation of study fees so a student is advised to check very carefully before they confirm the registration details as being correct.
Once a student has confirmed their details no further action can be taken.  If the should subsequently go back to the Enrolment screen a screen similar to that shown below will be displayed.  No processing can be done using this screen.